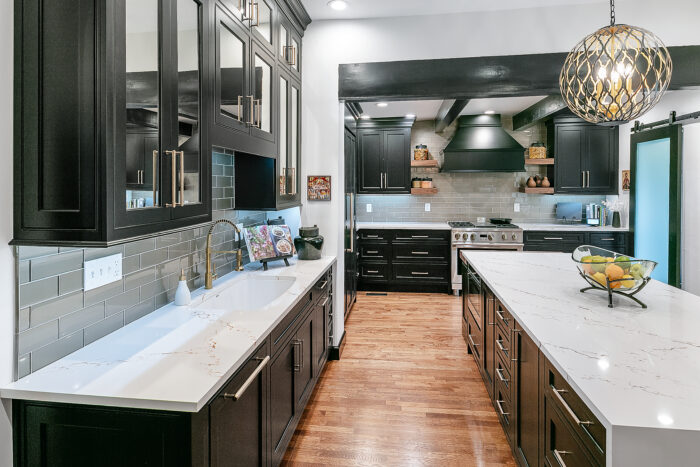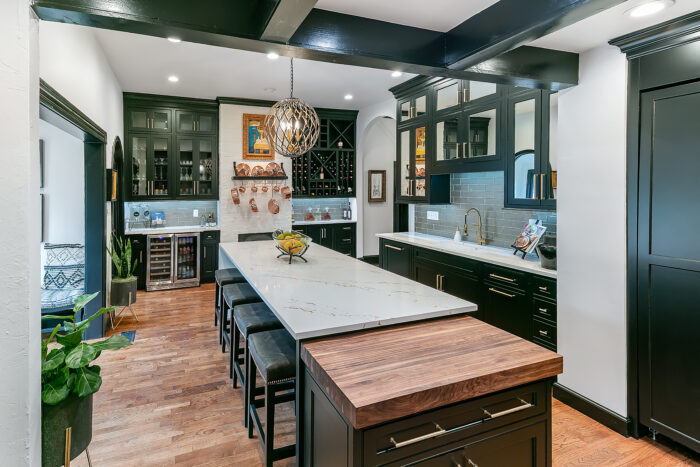 BLACK CABINETS BRING BEAUTIFUL CONTRAST
The simplicity of the Heartland style in doors and drawers joins Maple painted in basic black for the cabinets in our latest Featured Project, bringing distinction to this Tennessee kitchen.
And that custom wine rack … "a piece of art!" according to designer Heather Budde of Kitchen & Bath By Design LLC.
The homeowners, who also operate multiple restaurants in their hometown in The Volunteer State, painted their home white with black trim inside and out, and carried that theme into the kitchen with black Brighton inset cabinets.
"We both agreed that the black would be a really good contrast," Budde said.
The 125-year-old home had its challenges, such as an uneven floor that in some places varied by 2-3 inches. The custom cabinets included features such as 6-inch toe kicks in some places to accommodate this characteristic.
"It was real traditional and the owners just literally decided that they wanted to change things up and modernize it," Budde explained.
Budde knew that work by Brighton Cabinetry would be a great choice for this kitchen, and her confidence was rewarded.
"The quality, the finish, the fit — for one of the most complicated jobs in terms of just the job site, it turned out. I couldn't have asked for a better fit."
Noteworthy touches throughout
In addition to the one-of-a-kind wine rack cabinet, which neatly displays dozens of bottles of wine, the homeowners chose several detailed custom and standard options from Brighton. These include a pop-up mixer cabinet on the island for entertaining; a charging drawer; rollouts in the pantry; utensil dividers; a double wastebasket cabinet; mirrored glass doors; and 42-inch custom corner drawers.
"I love Brighton Cabinetry," Budde said. "I feel like Brighton's a great value for the money. That custom wine rack, I don't think anybody else could have done."
Several key elements of the kitchen found new locations with the modernized design, Budde said. The cooktop was relocated, as was the sink. Beams in the ceiling were altered with the design to give them a more purposeful feel, with one beam even added near the range hood to complete the look.
"It was an older home and it had seen a lot of changes over time," Budde said. But her goal was to make the kitchen design new while at the same time incorporating elements that give the feeling of continuity with the rest of the home.
Poised to entertain
This home can accommodate more than 100 people for a gathering. The owners wanted a kitchen space to fit family gatherings and allow them to host larger events as well.
"They like to entertain," Budde said.
She called the new kitchen design "truly a labor of love as well as a challenge."
With their choice of Brighton cabinets, these homeowners have gained a one-of-a-kind kitchen with well-made custom cabinetry that will serve their family for years to come.
Are you ready?
After all you have invested into your home, you deserve that one-of-a-kind look, too! Brighton Cabinetry can help bring your vision into focus and make it a reality. If you are interested in having cabinetry made by Brighton, please visit our Find a Dealer page, where we have all our dealer locations listed.
Designer: Heather Budde
Location: Kitchen & Bath By Design LLC – Knoxville, TN
Species: Maple
Finish: MP Black
Overlay: Beaded Inset with Concealed Hinge
Doors: Heartland VFP
Drawers: Heartland 5 Piece VFP
Photographer: Bruce McCamish Photography