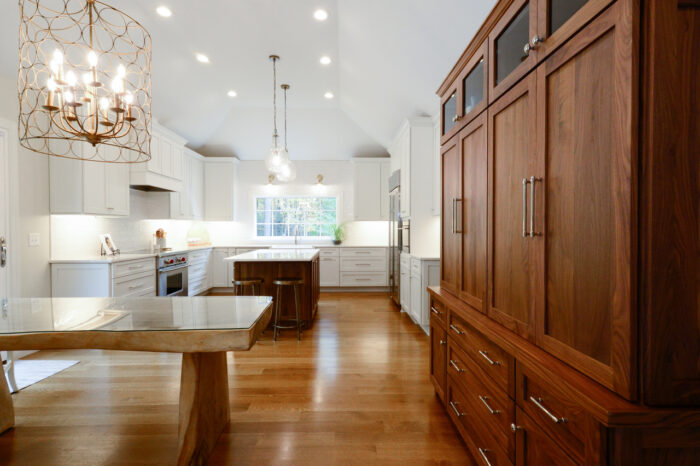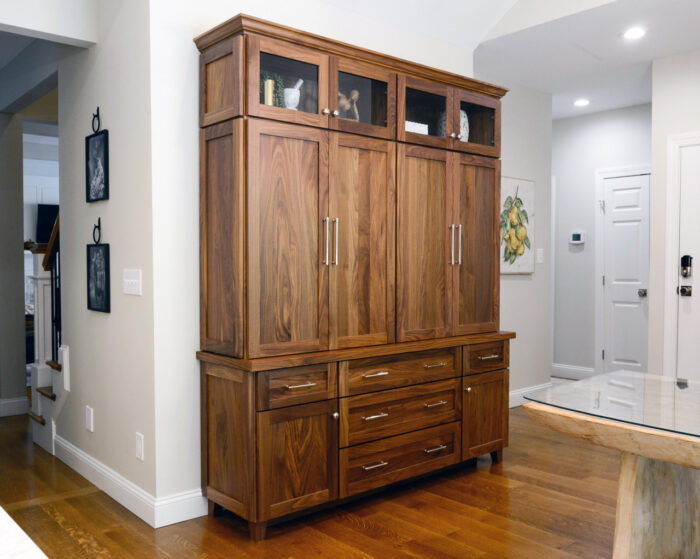 Wonderful Maple and Walnut Kitchen
Our Featured Project selection is a Maple species kitchen, finished in our Iceberg paint.  However, the homeowner has chosen to accessorize pieces like the island and armoire in a Natural finished Walnut. The striking Walnut species stands out perfectly in this bright kitchen.
Selecting our Shaker style door for their cabinets allows the cabinetry to speak for itself with its sleek lines, allowing the flow of this room to be smooth as your eyes travel over each cabinet.  You will find a beautifully done farmer sink with an accent piece of walnut to define the difference between the porcelain sink and the cabinet housing it.
Speaking of the lower cabinetry, this kitchen design is equipped with ample storage space, not just the lower cabinetry but the entire kitchen including the beautifully designed armoire which can hold a variety of different customizations.  Did you know that Brighton offers many accessories to place inside cabinetry to help keep items organized? If you do not find something you like in our standard offerings, we are sure your dealer can request just what is needed!
After all you have invested into your home, you deserve that one-of-a-kind look.  Brighton Cabinetry can help bring your vision to reality.  If you are interested in having cabinetry made by Brighton, please visit our Find a Dealer page where we have all our dealer locations listed.
Designer: Kaylor Russell
Location: Kitchen and Bath Galleries – Raleigh
Specie:  Maple & Walnut
Finish: Iceberg & Natural
Overlay: FOLC
Door:  Shaker
Drawer: Shaker 5pc Flat