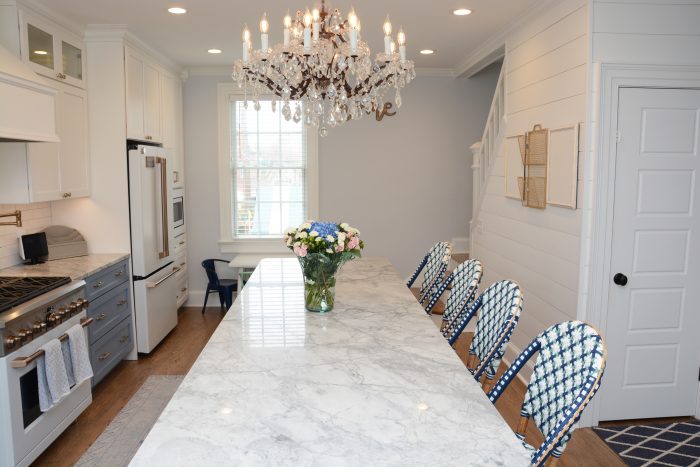 Updating a 200 Year Old House!
Kitchens come in all shapes and sizes and Brighton Cabinetry can build cabinets for them all.  Our newest Feature Project is of a beautiful dual toned kitchen with one choice being our standard paint Lace and the other being a custom finish chosen by the homeowner because they wanted to do a fun color!
Did you know that Brighton Cabinetry can match any color you like?*  Visit your local dealer to find out how you can get the finish of your dreams on your future cabinetry!
The homeowners of this beautiful kitchen entrusted Lorraine Aldridge-Ey, one of many fantastic designers at Cabinet Discounters, located in Columbia, Maryland, to redesign their entire kitchen that is located inside of a 200-year-old home!
Attention to detail does not only happen on the outside of our cabinets, inside can be just as important! For example, are you someone that has a wonderful wine collection?  Or maybe you need a place to store bottles? Our Wine Cubbies are perfect for holding your bottles safely in their designated spots.
Do you have an ongoing collection of silverware and not enough space to store it?  Brighton offers a Double Cutlery Divider which can hold a larger amount of silverware.  To go along with that, we have knife blocks that you can store knives away safely.  Maybe the idea of both storage options in one drawer is needed and like this homeowner, the combination of a Utility Tray with Knife Block is available.  There are so many options to choose from! Sizing is also customizable for the spacing of the utensil slots.
See an accessory you want but do not think we have it?  Ask your local dealer to have items quoted for you! Many times we can supply custom items to go inside of your cabinetry!
 Brighton Cabinetry, Inc. has been providing custom cabinetry to customers across the Midwest and along the East Coast for over two decades. After all you've invested in your home, you deserve the very best — starting with the highest quality materials and distinctive designs of master craftsmen, who create that one-of-a-kind look you want.
*Brighton Cabinetry is not able to match metallic finishes
If you are interested in having cabinetry made by Brighton, please visit our Find a Dealer page where we have all our dealer locations listed.
Designer: Lorraine Aldridge-Ey
Location: Cabinet Discounters – Columbia, Maryland
Specie: Maple
Finish: Lace & Custom
Overlay: FOLC
Doors: Shaker
Drawers: 5-pc Flat