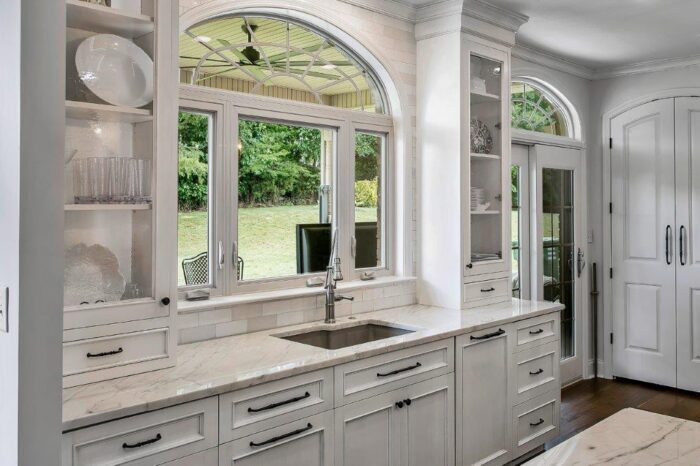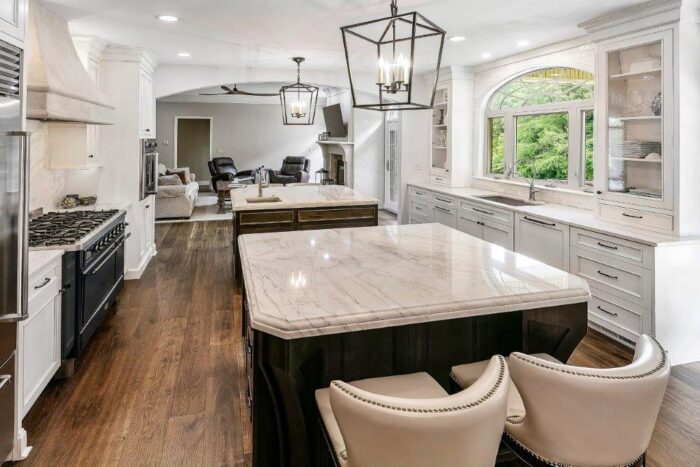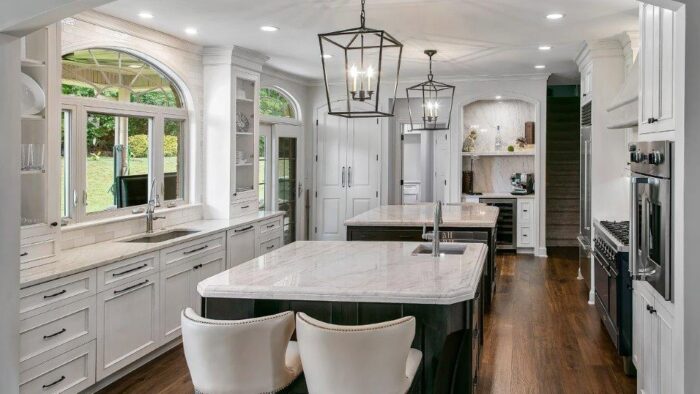 LIGHT KITCHENS BREATHE NEW LIFE INTO YOUR HOME
Light kitchens breathe a new life into your home but also gives a classic and modern style. With an Oatmeal finish and quartzite countertops, this design is a great example of a very popular kitchen trend. Especially with the right kind of lighting such as this kitchen has. There are also two islands with a unique post that draws the eye to the center of the room giving the look of a perfectly balanced design.
Creating The Look

The homeowner brought an inspirational picture to the designer who was able to base her design for the kitchen and island legs using that image. To turn their dream into a reality Heather Budde knew Brighton Cabinetry would be a great fit. They chose Maple Oatmeal cabinets for the perimeter and Cherry for the island with a Peppercorn finish. This gives a two-tone look which is another great trend and really adds to the look of the kitchen.
Convenient Storage
Another great feature about this kitchen design is the abundant amount of storage. With rollouts underneath the appliance, the owners are sure to have enough storage space conveniently located to allow for easy access to any items needed while cooking. They utilized roll outs in the pantry area as well. The island has drawer bank cabinets that also gives more room to store necessities. Convenience like this is what can make or break a great kitchen design. If you are interested in purchasing Brighton Cabinetry for your home, please check out our Find a Dealer page on our website where you can find many qualified dealers in or around your area.
Dealer: Heather Budde with Kitchen & Bath by Design, LLC using Brighton Cabinetry cabinets
Kitchen designed in collaboration with Aimee Pearson, Designer/Kitchen and Lifestyle Designs
Location: Knoxville, TN
Door Style: Verona
Species: Maple & Cherry
Finish: Oatmeal & Peppercorn
Photographer: Bruce McCamish